Thuriferous juniper (Juniperus thurifera) in Morocco

The thuriferous juniper
and the Scientific Research

For several years, the thuriferous juniper is the subject of varied researches, led in France, in Spain and in Morocco. 26 and 27 September 1997, the first International Conference about this species has been organized at Marignac (Haute-Garonne, France), at the bottom of the Mountain of Rie stand in Pyrenees.
At the Terrestrial Ecology Laboratory of the University Paul Sabatier of Toulouse (France), researches mainly concern:
- the study of tree rings, so as to determine the sensitivity of this species to the climate (dendroecology), as well as the age of these pluri-secular trees, perhaps millennial (Valérie Bertaudière).





(Photo T. Gauquelin)
- the study of the soil - vegetation interactions, to show the effect of the degradation on the erosion of soils.
- the study of the biomass (with non-destructive method), the mineral composition and the carbon stock of these high mountain environments, so as to deduce some trophic potentialities (Nicolas Montès).
In Morocco, in addition to that biomass and mineral composition studies, researches are also led on problems of regeneration of this species: indeed, seeds are often parasited (photograph hereafter). Those healthy seeds germinate only under the shelter of the tree, but grazing and summer dryness eliminate the rare plantlets.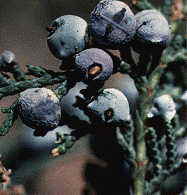 (Photo T. Gauquelin)
In Spain, main research themes concern the bryophytic flora on thuriferous juniper (moss and lichens), the fauna associated with this species, the germination and the vegetative reproduction by cuttage.
For all complementary information, or available publications list
on the thuriferous juniper, contact us !!!